From the Del Mar Turf Club Media Team:
Fernando Toro: A Journey from Chile to Racing's Hall of Fame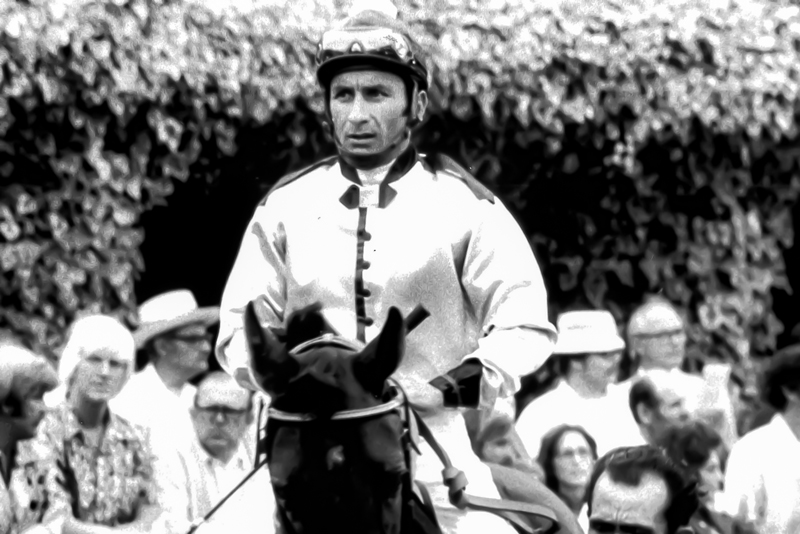 (Fernando Toro on the stakes filly Lucky Spell in the paddock at Del Mar in 1973 / Photo Courtesy of Del Mar Turf Club)
Fernando Toro was tenacious on the racetrack. A fierce competitor who learned the idiosyncrasies of the game and used them to his advantage. He was never a bully, but he wasn't called "The Bull" for nothing. If you hooked up with Fernando Toro in a race, you were in for a fight.
Off the track, Toro was a family man, kind, always a gentleman and generous with his time. He was respected by his colleagues and loved by his fans. But ask the Hall of Fame's newest member what his greatest accomplishment was in a life full of success, and you'll get to the root of the man.
It was none of his 80 graded stakes victories or any of the 3,555 races he won over his career. It was something he did when his racing career was just starting to bloom in his native Santiago, Chile when he was 17.
"I was winning races and everything," Toro recalls. "I promised my mother I would buy her a house. She called me a dreamer. Then one day I took her for a walk behind the school I used to go to. I said 'How do you like this house?' And she said it was nice and I said: 'Here's the key.' That was one of the great things that happened in my life."
Fernando Toro was born in Chile's capital on January 31, 1941 but he will tell you his story really begins when he became a teenager.
"Everything started at age 13," Toro says. "My mother told me you cannot go to school anymore you have to go to work. We had to put food on the table. My father had disappeared. My poor mother and my two brothers; we had a very difficult time."
In one of those unexplained coincidences of life, Toro's walk to school took him by one of the racetracks in Santiago.
"Every morning I passed by the gate to the Hippodromo," Toro says. "One morning I stopped to look inside the gate and the gateman came over and asked 'You like horses?' and I said 'Yes.' He let me inside to take a look.
"So when my mother told me to get a job I said I'm going to get a job at the Hippodromo," Toro continues. "I told the gateman I need a job and he told me to go to the stables one by one and ask if they need any help. So I did and one of the trainers asked me: 'What are you looking for, what do you need?'  I said I need a job and I explained my situation. He asked: 'Have you ever been around horses before?' and I said 'No.' He said: 'I'm going to help you.'"
And so, Fernando Toro's life with horses began. He got his groom's license and started working for trainer Roberto Maggi. That was 1954.
"I fell in love with horses," Toro remembers. "I spent two years as a groom. I was happy to take my check to my mother. I went a couple hours before the first race around 5 o'clock and took care of my horses. Then ran to the grandstand to watch the races. I was 15 years old.
"One day I was sitting in the grandstand watching the races," Toro says. "There was a couple sitting next to me and the man asked 'You like the races?' I said 'Yes, of course.' And he said, 'Well, you're short, why don't you be a jockey?' Well believe me, I had never thought about that but that put the thought in my mind: 'I can be a jockey.'"
He went back to the barn and talked to Maggi and told him he wanted to be a jockey. Once again, Maggi said he would help him. On September 11, 1956, Toro won his first race.
He was a natural and soon he was getting calls from other trainers to ride their horses. By 1965, he was riding champion horses in Chile and winning all the national races, including the biggest of all, the Gran Premio.
"The horse won by 12 lengths," Toro says. "The trainer said there were some people from the U.S. here and they bought the horse. The new trainer came to me and said, 'Fernando, when this horse is ready to run in the United States, we want you to ride him.'"
While Toro waited for the phone call he was offered contracts to ride in Argentina, Venezuela and France.
"I said 'No, I want to go to the USA, that's my future.'" Toro recalls. "I was married with three kids. I had to think of the future."
Months later the call came, the horse was ready and Toro was on his way to Florida. He didn't waste any time making a name for himself. Two weeks in the States and he won the then prestigious Pan American Handicap at Gulfstream Park on a horse named Pillanlelbun.
"At the end of the season there was no more racing after the winter time," Toro says of Florida. "Everybody went to different places. We went to Chicago, we went to Europe. This trainer comes to me and says: 'I want you to ride my horses; I want to give you first call.' So I ride in New Jersey and Delaware and back to New York."
Then a subtle life-changing moment occurred to Fernando while racing back in Florida in 1968.
"I had a spill at Hialeah and injured my hand," Toro remembers. "It was bothering me in the cold weather in New York. One day at the races at Belmont Park, which had just opened, I ran into an old friend of mine from Chile. He was the assistant trainer for Warren Stute. I invited him to come to the house for dinner and I told him about my situation with my hand and he asked 'Why don't you come to California?'
"We had just bought a house," Toro continues, "but I talked it over with my wife and decided to give it a try. I called my friend back in California and he said: 'I already have an agent for you.' Chick McClellan was his name and he was like a father to me. He was a jockey once but he had weight problems. He always gave me good advice."
The brash 27-year-old Toro rushed off to California and like most people coming to the Golden State he had visions of sunshine and beaches and never gave the move a second thought, never thought twice about what he might be getting himself into.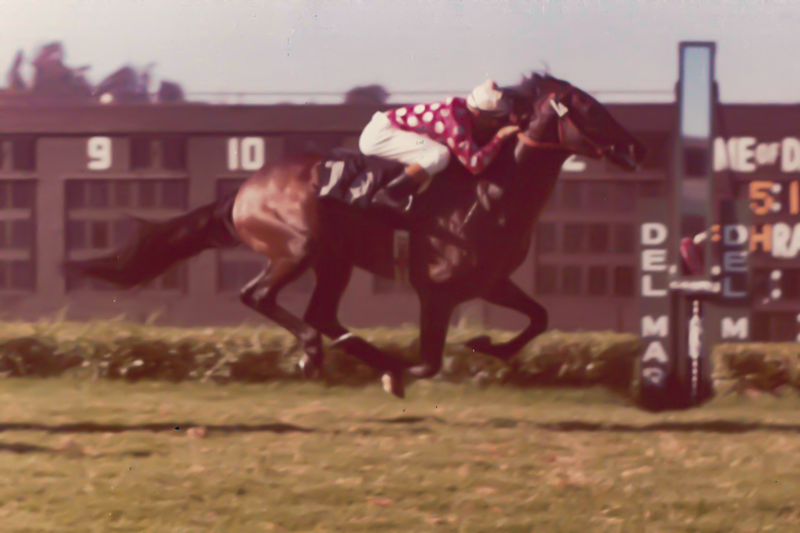 Fernando Toro wins Del Mar's 1970 Escondido Handicap on Cougar II. The race was subsequently renamed the Cougar II 'Cap to honor the champion racehorse.
"When I get to California everybody says you're crazy," Toro notes. "They would tell me: 'Have you seen the jockeys they have here?' Bill Shoemaker, Laffit Pincay, Chris McCarron, Eddie Delahoussaye, Alex Solis, Gary Stevens, Don Pierce, Darrel McHargue, Patrick Valenzuela, all in the Hall of Fame except Patrick."
It would be equivalent to combining the Top Five jockeys at Del Mar with the Top Five jockeys in New York…and have them ride against each other for the next 10 years.
"Not at all," Toro says about being intimidated when he first walked in the jock's room at Santa Anita. "I felt so good. Being around Bill Shoemaker and all those guys. When I walked into the jockeys room I sat in the corner and I just looked around. I watched every race with those guys and that improved my ability as a jockey."
The first trainer to give Fernando a chance when he came to California was Tom Pratt. He had Toro work some horses for him in the morning. Later, when others saw how good Toro was in the saddle, trainers like Charlie Whittingham, Willard Proctor and Bobby Frankel came calling.
He would soon find himself riding a lot of trainer Richard Mandella's horses.
"He was not just a great rider but a good horseman," Mandella says. "He wasn't just a jockey who got up and went around a circle and came back. He knew horses and what they needed and was very helpful with that."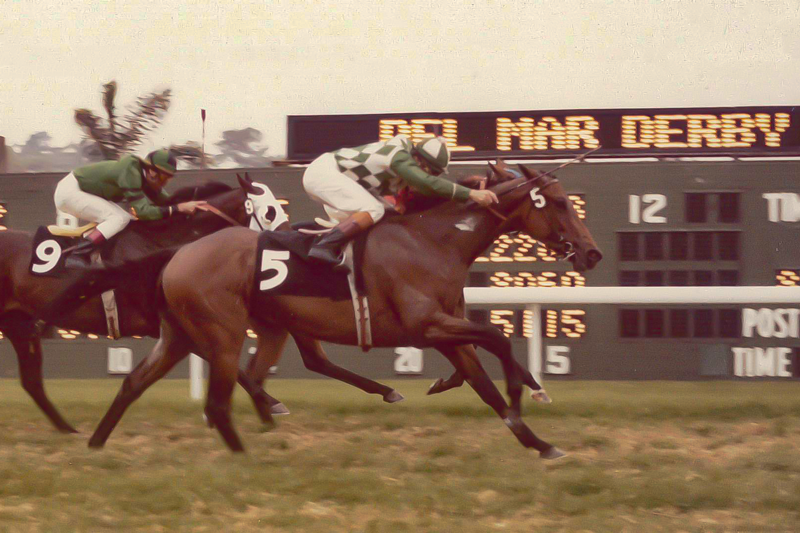 Fernando Toro wins 1981 Del Mar Derby on Juan Barrera.
In the years that followed, Toro started racking up the victories and notched his 2,000th win in 1975. During this time he began building his reputation for being an excellent turf rider soon earning a nickname from the jockeys.
"He was ruthless on the turf," fellow jockey Patrick Valenzuela says about Toro. "We called him 'the lawn mower' in the jocks room because of the Toro lawnmower. He cut that grass up."
Soon trainers, who brought their horses to the United States from Europe or South America, sought out Fernando to ride their horses. 'Toro on the Turf' became a popular moniker among horsemen and bettors alike. If you had a turf race and Toro was in it, that's who you wanted to back.
"He could do anything," Mandella says. "He was known mostly for the turf but that was because he was given better horses on the turf."
Fernando credits his turf success to a bit of advice he got from McClellan soon after arriving in California.
"When my agent came to the airport to pick me up when I arrived from New York," Toro remembers, "we went to Arcadia (home of Santa Anita Park) and he said: 'The one thing about this track, I don't know why, but nobody stays on the inside rail. Just stay there and don't let anybody get there with you.'"
It was probably the best advice Toro ever received because his knack for riding on the turf paved the way to the Hall of Fame. There is a bit of irony regarding Toro's reputation for being a great turf rider.
"In Chile there were only two racetracks," Toro says. "One was only grass and the other only dirt. They only raced on Sundays. One in the morning, one in the afternoon. I was a champion jockey…on the dirt."
Jockey Kent Desormeaux studied Toro and notes something else that may have made Fernando such a great turf rider.
"It was in his hands," Desormeaux says. "With turf riding you have to mostly be able to turn a horse off; teach a horse how to herd. Let them kind of slap the ground behind the horse in front of them so that when you present them, they'll explode. Learning that trick of the trade is something he was masterful at."
"He gave me fits," Valenzuela remembers. "He would get a lot of European horses and he would be able to put them right behind a horse and shut him off and relax. Then pick the right holes. I know me and him came down to the wire quite a bit together. I don't know how many times I beat him but he was tough to beat."
Toro's best year, in regards to earnings, came in 1986 when he made over $4.8 million. He was riding a horse named Estrapade for Whittingham and won the G1 Arlington Million, the G2 Beverly Hills Handicap (now named the Red Carpet) and the G1 Oak Tree Invitational (now the John Henry Turf Championship). He also ran third that year with Estrapade in the Breeders' Cup Turf. Estrapade would become the second Eclipse Award winning horse Toro would ride in his career.
His lone Breeders' Cup win came on the other Eclipse Award winner in 1984, the inaugural year for the championship races. He guided Royal Heroine to victory in the Mile for trainer John Gosden.
"Royal Heroine was my favorite," Toro says. "A real champion."
Toro would surpass the $4 million mark in earnings again in 1988, but then things began slowing down. He compiled $2 million in earnings in 1989 and less than $600,000 in 1990 when, at the age of 49, Fernando Toro retired from racing.
---
Everybody loves a pat on the back for a job well done, an "atta boy" or a verse or two of "He's a jolly good fellow." Who doesn't want a little recognition for the work they do. In most businesses it comes with a promotion, a raise, or an 'Employee of the Month' plaque. In some professions it comes with a Hall of Fame induction.
For some people that recognition is immediate. Tony Gwynn knew the day he retired he would be inducted into the Baseball Hall of Fame in Cooperstown, New York as soon as he was eligible five years later. But others have to wait…and wait…and wait. For those, there is a degree of frustration mixed with a feeling of rejection until finally you just give up and rest on your laurels, knowing you did the best you could.
For Fernando Toro it took 33 years.
"I've been thinking about this since the time I retired in 1990," Toro says. "People kept asking me: 'Why you not in the Hall of Fame?' I didn't know what to say, I never had the right answer. I was nominated about five times. For a while, I gave up. I told myself 'I'm not going to let it bother me anymore.' I didn't want to answer any more questions about it.
"I have a consolation for what I did in my profession," Toro continues. "I rode against the best jockey colony in the nation, probably in the world at that time. And I did pretty good. I'm not complaining. I don't want to change places with nobody. Now this Hall of Fame deal, if I deserve it then I think somebody is going to give it to me. If not, that's fine. I can't live just thinking about it."
One day last April, Fernando got a knock at the door and there on his doorstep stood two reporters he knew well: Jay Privman of Daily Racing Form and turf writer Jay Hovdey. They were there under the guise that they had a couple of pictures for Toro to sign. Sort of a prank, but not a mean prank. Instead, one with a delightful ending.
Hovdey pulled a photo out of a manila envelope and laid it on Toro's kitchen table. Fernando grabbed his pen, leaned over the photo and reads the inscription, 'Fernando Toro: Thoroughbred Racing Hall of Fame.' There was a bit of a pause, and once Toro realized what was happening, it touched off a flood of emotions. One could say 33-years worth.
Privman caught it all on his I-phone and you can probably find it on your favorite social platform. First, a bewildered Toro, then the rush of emotion as Hovdey tells him 'You're in, buddy.'
---
Toro was inducted into the racing Hall of Fame earlier this month. But the 82-year finds it too difficult flying cross country these days so Saturday he will receive his jacket and plaque during a special trackside ceremony at Del Mar, just a few miles from where Toro now lives with his wife and childhood sweetheart, Lola.
"My wife has been the greatest support of my life for the last 63 years," Toro says. "When I met her she was 16 and I was 17 and we've been together ever since. She said you just go to work, don't worry about anything. The kids will get to school, I'll take care of the house. She never complained."
Toro and Lola have four children. His oldest son is now 62. They have eight grandchildren and a great-grandchild. Proof of a fulfilled life well lived.
Fernando also has a trophy case in his Carlsbad home filled with reminders of his success on the track. Now he's got one more to add to it, one special one. It's been a long time coming, but now it's here.
View on the Web:
https://www.dmtc.com/media/news/fernando-toro-a-journey-from-chile-to-racings-hall-of-2327