From the Del Mar Turf Club Media Team:
Fernando Toro to be Presented Hall of Fame Plaque and Jacket at Del Mar on August 19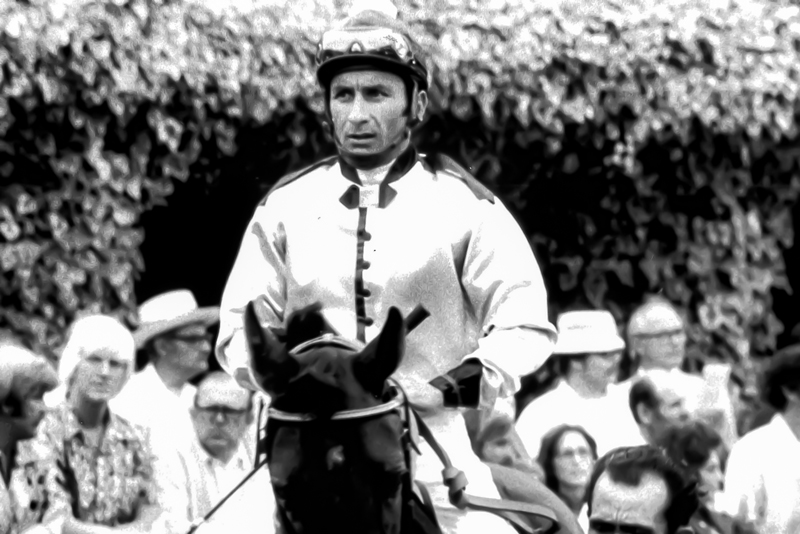 Fernando Toro on Lucky Spell ahead of the 1973 Del Mar Debutante © Bill Mochon Photography
Fernando Toro, who was officially inducted into the National Museum of Racing's Hall of Fame on Aug. 4, will be presented his Hall of Fame plaque and jacket in a special ceremony at the Del Mar Thoroughbred Club in Del Mar, Calif., on Saturday, Aug. 19.
Toro, 82, a resident of Carlsbad, Calif., was unable to attend the traditional induction ceremony in Saratoga Springs, N.Y. He will be recognized at Del Mar after the running of the Grade 1 Del Mar Oaks, a race Toro won twice during his outstanding career. Hall of Fame jockey Laffit Pincay, Jr. will present Toro with his plaque and jacket in the Del Mar winner's circle. The event will include a tribute video featuring Toro's career highlights.
"The National Museum of Racing and Hall of Fame would like to thank the Del Mar Thoroughbred Club for helping us recognize Fernando in such a special way at a track where he had so many of the moments that led to his election to the Hall of Fame," said Brien Bouyea, the National Museum of Racing's Hall of Fame and Communications Director. "It will be wonderful to see Fernando presented his Hall of Fame plaque and jacket by the iconic Laffit Pincay, Jr. with so many of his family members and friends able to be there in person."
A native of Santiago, Chile, Toro won 3,555 races with purse earnings of $56,299,765 during his North American riding career from 1966 through 1990. Toro won his first race in his native country at the age of 15 in 1956 and topped the Chilean national jockeys standings twice. Before arriving in America, Toro won three editions of the prestigious Gran Premio, as well as the 1964 Clasico St. Leger, a race in the Chilean Triple Crown series. Based in Southern California throughout his career, Toro won 80 graded stakes in North America. At the time of his retirement, he ranked in the top 10 in stakes wins at Del Mar (No. 6), Hollywood Park (No. 8), and Santa Anita (tied at No. 8).
At Del Mar, Toro won 38 stakes, including four editions of the Escondido (1970, 1978, 1987, 1988) and San Clemente (1974, 1975, 1979, 1987); consecutive runnings of the Ramona Handicap (1971, 1972); and two renewals each of the Del Mar Derby (1970, 1981) and Del Mar Oaks (1970, 1978).
At Hollywood Park, Toro won 823 races, including 83 stakes. He won the Beverly Hills Handicap five times (1977, 1978, 1983, 1984, 1986); the American (1975 both divisions, 1982, 1989) and Wilshire (1972, 1976, 1980, 1987) four times each; the Sunset (1976, 1985, 1988) and Premiere (1976, 1986, 1987) three times each; and the Gamely (1979, 1980), Inglewood (1973, 1984), and Vanity (1971, 1976) twice each. Toro also swept both divisions of the 1983 Hollywood Derby.
Toro's 620 wins at Sant Anita included 55 stakes. He had three wins in both the Santa Margarita (1974, 1976, 1984) and Strub (1976, 1981, 1986); two in the Carleton F. Burke (1979, 1981), San Carlos (1973, 1977), San Felipe (1975, 1981), San Pasqual (1975, 1977), Santa Ana (1978, 1985), Santa Monica (1974, 1975), Santa Susana (1976, 1977), and San Marcos (1976, 1985).
Although best known for his California success, Toro ventured throughout the United States and into Canada for several notable victories. He won the Apple Blossom (1988) at Oaklawn in Arkansas; the Arlington Million (1986) and Stars and Stripes (1987) at Arlington Park in Illinois; the Ashland (1977) at Keeneland in Kentucky; the Seagram Cup (1968), Dominion Day (1979), and Jockey Club Cup (1979) at Woodbine in Canada; the Longacres Derby (1984) in Washington; the Hawthorne Gold Cup (1987) at Hawthorne in Illinois, the Louisville Breeders' Cup at Churchill Downs in Kentucky; the Tremont (1969) and Manhattan (1976) at Belmont Park in New York; the Pan American (1968) and Rampart (1988) at Gulfstream in Florida; and the Widener (1969) at Hialeah in Florida.
In November 1983, Toro took over as the regular rider of Royal Heroine for emerging trainer John Gosden. Inducted into the Hall of Fame in 2022, Royal Heroine won the Hollywood Derby (Division 1), Inglewood, Beverly Hills Handicap, inaugural Breeders' Cup Mile, and Matriarch with Toro aboard. Toro also won stakes with Hall of Fame members Ancient Title, Cougar II, and Manila.
---
For more information about the National Museum of Racing and Hall of Fame, including upcoming events, please visit www.racingmuseum.org or call (518) 584-0400.
View on the Web:
https://www.dmtc.com/media/news/fernando-toro-to-be-presented-hall-of-fame-plaque-and-2308