(Medina Spirit after winning the 147th Kentucky Derby / Photos by Holly M. Smith)
Just a few thoughts following the most magnificent Kentucky Derby and Oaks that I can ever remember.
Maybe it is the fact that we lost so much time and so many people since we last reunited on the "First Saturday in May."
Maybe it is the fact that we have stressed and strained so much over the past year that we simply needed a huge reminder that there is still life after Covid, and life to be lived.
Maybe it is the continuing fact that we are so dreadfully tired of those afternoon railings about how bad things are by a Governor — who truly does not understand that we all have lives to live; businesses to run; payrolls to make; and bills to pay — that we just wanted to hear and see some positive rays of shine.
Maybe it is because we have not seen the sun shine bright on our old Kentucky homes in so many years that we forgot the it could actually shine at all on the first Saturday in May.
Maybe it is the fact that we actually missed each other and each other's company; and each's others smiles and laughs; and each other's kind words and hugs and kisses.
Whatever it was or is? Doesn't really matter.
Kentucky Derby 147 was magnificent. Truly magnificent.
And, here's some of our final thoughts:
Thanks Be to Churchill Downs:
The best racetrack in the world pulled off the impossible — yet again — and put on the most magnificent show on Earth — yet again. For the 147th time. But, maybe, just maybe, for the most important time.
The grounds were beautiful. The crowd was beautiful. The horses were beautiful. Everything was beautiful, in it's own way.
As the great Ray Stevens sings:
"Everything is beautiful in it's own way…
"Like a starry summer night…
"On a snow covered winter's day…
"And everybody's beautiful in their own way…
"Under God's Heaven…
"The world's gonna find the way."
Churchill Downs — who can throw a party better than any other sports venue in the entire world — found a way.
We — all of us, who have been starving for a return to normalcy — found our way back home to the home of the Kentucky Derby.
The horses — the best and most majestic creatures to ever run over this green and brown Earth — found their way around the racetrack in magnificent style.
We all found the way to celebrate once again.
Hallelujah.
Bob Baffert Is The Best…Ever:
For the 7th time, trainer Bob Baffert won the Kentucky Derby. Now, he stands alone as the winningest trainer in the history of the game's most historic race. Now, he stands alone at the top of the leaderboard with no one in sight of every equalling for eclipsing his amazing achievement. Now, he stands at his barn with more signs commemorating his victories than he has wall space left. Almost.
Last Saturday, the white-haired wunderkind saddled Medina Spirit and gave a leg up to rider John Velazquez. He wished them the best of luck. And, he turned them loose.
All they did was run around the entire racetrack in front.
All the way to the finish line.
All the way into Kentucky Derby history.
Waiting for them at the finish was the man who knows how to finish. Waiting for them at the winner's circle was the man who knows how to win.
Baffert just won his 6th Kentucky Derby last September with Authentic. In barely eight months later, he won his 7th. He is the first to ever do that, too.
And, one could argue, that Baffert won this year's Kentucky Derby with his third best 3YO colt in his barn. Undoubtedly, Life Is Good would have been this year's favorite if not for an ill-timed injury took him off the Derby Trail. Without question, Concert Tour would have been the fan's choice if he had only won the Arkansas Derby in the same style and convincing manner that he had shown in previous races.
Name me one trainer who could come to Kentucky with, perhaps, his third best option and still win?
Name me one?
Ever?
No matter how you feel about the man; no matter how you feel about his style; no matter what you may want to think or speculate; no matter how much you want to hate. There remains three facts:
One: Never, ever, ever once has Bob Baffert had a horse test positive for a prohibitive drug after winning the Kentucky Derby. And, the fact is that those tests are the most ardent and stringent in all of sports. All of them. Combined.
Two: Every year, Bob Baffert comes to Kentucky with a runner poised and ready to run their best race of their careers and lives. There is no doubt that when he leads them over to the paddock, that they are fully fit and ready to give their maximum effort. No doubt.
Three: Now, Bob Baffert has won the Kentucky Derby more than any other trainer in this history of his great sport.
Hate if you want. Cast dispersions. Call names. Speculate. I see you on social media and everywhere else spewing those words of disgust. I wonder how you would like it if someone did those things to you or a member of your family?
Sure, Bob Baffert has had horses return with a positive drug test before. OK. You know it. I know it. Everyone knows it.
But guess what?
So has Bill Mott. So has Todd Pletcher. So has Shug McGaughey. Want me to go on? Want to hate on them, too?
Accidents happen. Mishaps occur. There are a zillion reasons why and how a minuscule amount of contamination can lead to calls for damnation. A groom may impact the feed tub. A herb may get in the wrong bale of hay. A legal medication for a human may accidentally get rubbed into a tongue tie.
It could happen. It has happened. You ever been around a barn before? Seriously? Ever?
But it has never happened after a Kentucky Derby win. And, it has happened so rarely compared to the thousands and thousands of races entered and races won, that there should be more forgiveness and understanding than spite and calls for the guillotine.
Yet, those are two words now forgotten in our hearts and minds. Forgiveness. Understanding. Right alongside, reasonable and rational. Seems as if we now live in a society that is hell bent on being both judge and jury and one that dismisses the old adage that one should not cast stones if you live in a glass house.
The truth is simple:
This man is the best to ever saddle a Thoroughbred.
Ever.
History will show it.
Just like Medina Spirit showed it on Saturday.
People Love the KY Derby…People Love Horse Racing…Period:
This says it all…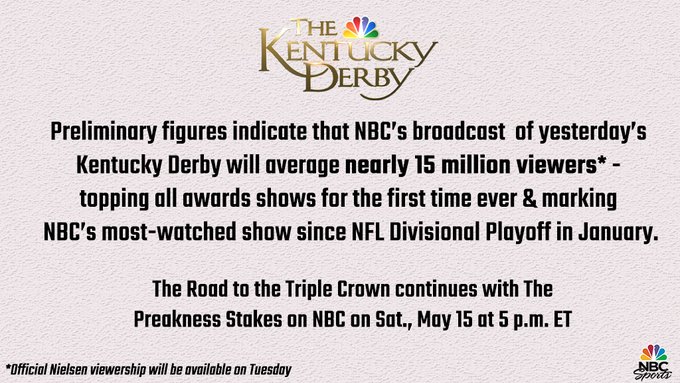 Quick Hitters:
Why was jockey Joel Rosario's foot out of the stirrups on Rock Your World when the starting gate opened for this year's Kentucky Derby? Should the Stewards look into this matter and ask a few questions? Shouldn't we all get an answer?
Did the fact that Rosario did not have his boot in the stirrups cause his horse to veer radically left and into the side of favorite Essential Quality and cost either one — or both — of the horses? Should the Stewards look into this matter and ask a few questions? Shouldn't we all get an answer?
Do you think that Rosario should be fined? Or was it purely bad luck? Do you think that the Stewards should investigate and give a report?
Do you think that the owners of Rock Your World now wish they had of stayed with jockey Umberto Rispoli, who rode Rock Your World to victory in the G1 Santa Anita Derby but was immediately discarded for the KY Derby? (By the way, Rispoli picked up the mount and finished 15th on Brooklyn Strong and in front of Rock Your World).
Do you think a Louisville-born trainer will ever win the Kentucky Derby? Brad Cox had both Mandaloun and Essential Quality in this year's version. They finished a very game 2nd and a tough-luck 4th.
Do you think a horse that draws the rail will ever win the Kentucky Derby again? Florida Derby winner Known Agenda was not a factor on Saturday. Never a factor.
Will Baffert consider Concert Tour for this year's Preakness now? After all, he could have the bests chance of beating his own horse and now Derby winner Medina Spirit.
What do you think the stud fee on Florida-based stallion Protonico will now be? He used to stand for a fee of $5,000 live foal. But he is the sire of Medina Spirit.
Much has been said, written and questioned about Medina Spirit losing the lead to Mandaloun in the deep stretch, only to come back and win the Kentucky Derby at the wire. But what about Jackie's Warrior unbelievable fractions in the early stages of the G2 Pat Day Mile, and the fact that he held on to win? What about the "old man" Whitmore making the lead late in the G1 Churchill Downs Stakes, only to get passed again by the resurgent leaders Flagstaff and longshot Lexitonian. What about the grace of Shedaresthedevil, the day before, holding on against all odds? Crickets?
Who were the most impressive horses to run on Oaks and Derby Days? For me, they were in no special order: Medina Spirit; Malathaat; Gamine; Colonel Liam; Shedaresthedevil; Jackie's Warrior; Flagstaff & Whitmore; Mandaloun.
Best Jockey Overall Performance on Derby Day? Flavien Prat — who had Stakes wins on Domestic Spending, Du Jour, Blowout; a Stakes-placed second on Dream Shake; and Stakes-placed third on Hot Rod Charlie.
Best Jockey Overall Performance on Oaks Day? Jose Ortiz — who had Stakes wins on longshot Obligatory in the G2 Eight Belles and with Maxfield in the G2 Alysheba Stakes. He had only three mounts in the Stakes races on Friday. His lone miss came on Crazy Beautiful in the KY Oaks.
Best Jockey Overall for Both Days: Unquestionable. Johnny Velazquez — who won the KY Derby with Medina Spirit and the KY Oaks with Malathaat.
That's a wrap folks.